Creating friendships and developing skills through football
---
Proudly Sponsored by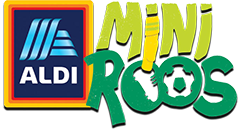 Supported & Sanctioned By


---
Strathfield FC is pleased to be running The Aldi Mini Roos, Kick Off Program – A program for the next generation of Strathfield Strikers!
Designed for children between 4-6, the Mini Roos Kick-Off program aims to help in the development of children's football skills as well as providing a fun and safe friendly environment for children to learn and love the sport.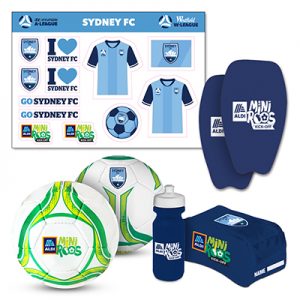 Why choose Mini Roos
A fun, safe introductory program designed for new players aged  between 4 and 6.
Weekly 45 minute sessions that build skills through games and simple drills delivered in an engaging and inclusive environment.
Every player gets plenty of time on the ball and the prime aim of each session is for children to build fundamental motor skills.
Each child also receives an ALDI MiniRoos Participant Pack when they register – which includes a bag, ball, shin pads, water bottle and a sticker pack.
Development of skills in a non-competitive environment
Development of friendships with their teammates
Promoting and Developing social skills
Participation in group sport
Benefits of signing up your children for our Kick-Off program?
Make new friends and develop social skills.
Develop values of teamwork, co-operation, fair play, and respect for others.
Develop a child's ability to make quick decisions and improve reaction time.
Keep healthy by getting active.
Where, When and How Much
Where:  On the Synthetic Field (closest to Chalmers Road) at Strathfield Park, Chalmers Road, Strathfield
When:  We're aiming to provide a 45 minute, Wednesday night session, for 10 weeks, starting on the 18th September 2019, kicking off at 5:30pm each Wednesday night.
How Much: $150 for the whole 10 week program
All you need to organise is a pair of football boots,
These are a must!
ACTIVE KIDS VOUCHER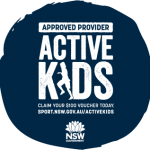 The NSW Government is helping kids get active with the Active Kids program.
The Active Kids program provides two $100 vouchers for parents, guardians and carers of school-enrolled children to use towards sport and active recreation costs each year.
From 1 July 2019, parents, guardians and carers can apply for the second $100 Active Kids voucher, within the same year.
Voucher 1 is valid January to December
Voucher 2 is valid July to December.
Being an Approved Provider, these vouchers may be used with any registration at Strathfield FC, which will give up to $100 off your registration fees.
***PLEASE NOTE***
Active Kids Vouchers used for our Mini Roos Kick Off Program are handled manually, which means you will need send us your Active Kids Voucher and we will refund you $100 once your voucher has been authenticated.
Submit your Active Kid's Voucher for a $100 Refund